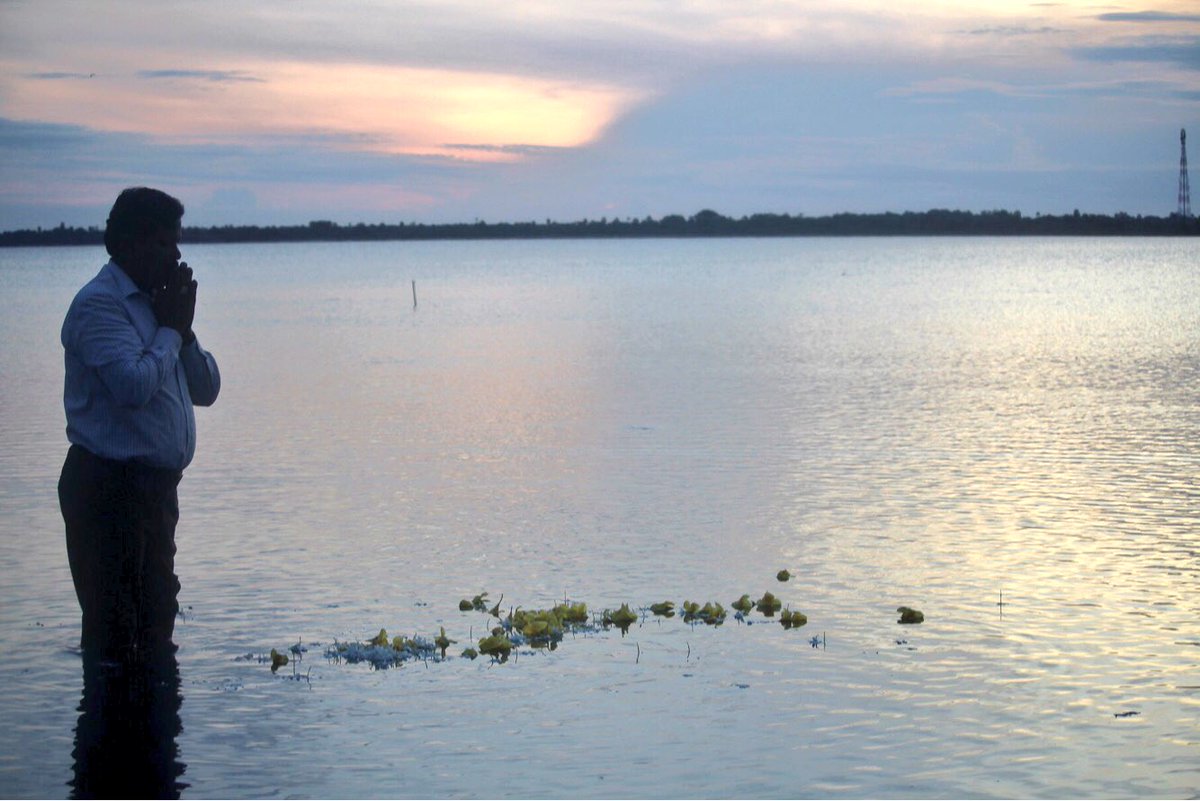 NPC member Ravikaran scatters flowers at Nandikadal lagoon at sunrise
Nine years ago, the Eelam Tamil nation faced the largest massacre of its people by Sri Lankan state forces across the decades of genocide. May 18 has come to be marked as 'Tamil Genocide Day' by Eelam Tamils across the North-East and around the world. Today, we at the Tamil Guardian stand with the Tamil people in remembering the tens of thousands massacred during the final stages of the armed conflict and reiterate the Tamil people's demand for justice. 
Despite years of suppressing memorial events when it was in government, the Sri Lankan Freedom Party held an event to commemorate Tamils killed during the massacres at Mullivaikkal 9 years ago.

The event, which was met with scepticism by local Tamils, was held at the party office in Jaffna on Friday....

The Sri Lankan military stationed in Kilinochchi held military and religious ceremonies on May 18th "to invoke blessings upon the soldiers," according to an official military website.

The Tamil National Alliance commemorated the 9th anniversary since the massacre of tens of thousands of Tamils, in a ceremony at its office in Jaffna on Friday.

The Sri Lankan navy plans to acquire a further 18 acres of land in J/07 Grama Sevaha Division, Mandaitivu in order to build a camp for the Velusumana Navy Division. 

A notice declaring the planned acquisition was seen by residents on the island...

Families in Sampur have reiterated their calls on the Sri Lankan navy to release their land after navy officers were seen planting coconut trees in the area earlier this month. 

Writing to the Trincomalee District Secretariat, the Eastern...

Sri Lanka's president awarded honours to 50 senior military officers, included those accused of war crimes in a lavish ceremony in Colombo this weekend.

Hundreds of Tamils gathered in New Zealand on Friday to mark 9 years since the massacres at Mullivaikkal, where tens of thousands of Tamils were slaughtered.

Members of the Tamil community organized an event at Albert Campbell Square in Toronto and at Van horn Parc in Montreal to commemorate the 9th year anniversary since tens of thousands of Tamils were killed in Mullivaikkal on Friday.

Sinhalese in a Colombo suburb burnt a Tamil Eelam flag this weekend, as they celebrated Sri Lanka's military offensive 9 years ago which resulted in the deaths of tens of thousands of Tamils.

Thousands participated in a rally at Marina beach in Chennai, Tamil Nadu on Sunday to remember Tamils who were killed by the Sri Lankan armed forces during the final stages of the conflict in 2009. 

The rally took place despite police efforts to prevent participants from...

Today marks 10 years since the death of Brigadier Balraj, a senior commander with the LTTE, who passed away from a sudden heart attack in 2008.

Brig. Balraj was famed for his courage, leadership and skills on the battlefield.

His body was laid to rest with full military honours, at the Mulliyavalai Heroes Cemetery in Mullaitivu. The cemetery has since been destroyed by Sri Lankan security forces.

Four men were arrested in Jaffna by Special Task Force officers on Sunday for alleged involvement in the 'Ava gang'. 

During the raid, STF officers reportedly seized weapons, including two swords. 

The four men were produced before Kodkamam magistrate today. 

Sri Lanka's Office of Missing Persons (OMP) is to establish 12 regional offives, the body's chairman, Saliya Peiris told journalists. 

Speaking after the OMP's second sitting in Matara on Saturday, Mr Peiris said, "the OMP is not limited to the missing in the North and it will also inquire into missing persons in the South, including 5,100 missing soldiers and police officers during the war."

Sri Lanka's minister of Higher Education and Cultural Affairs, Wijeyadasa Rajapakshe said the government was looking to introduce changes to the law to 'protect' Buddhist religious sites. 

The laws would give authorities the power to penalise individuals who vandalise Buddhist sites, he added. 

Members of the Tamil People's National Front (TNPF) held a blood donation drive on Sunday, in memory of those who had been killed by Sri Lankan state forces during the final stages of the armed conflict in 2009. 

Locals gathered in the town of Muttur in Trincomalee on Friday, to mark 9 years since tens of thousands of Tamils were massacred by Sri Lankan state forces.

Local journalists, civil society activists and students gathered in Gandhi Park in Batticaloa on Friday to remember those who were killed in Mullivaikkal 9 years ago.

Hundreds of people, including school children gathered in Kilinochchi on Friday, to remember those killed by Sri Lankan state forces.

Events were held in Sydney, Melbourne and Western Australia on Friday marking 9 years since the massacres at Mullivaikkal, where tens of thousands of Tamils were killed by Sri Lankan state forces.

Tamils across Europe commemorated Tamil Genocide day on Friday. 

In Switzerland Tamils gathered in town squares to remember those that were killed in the final stages of the war. 

The 9th anniversary of the slaughter of tens of thousands of Tamils by Sri Lankan forces was remembered by locals in Amparai. 

Residents in Ponnalai, Valikaamam West and Kurumpasiddy, Valikaamam North remembered those massacred by Sri Lankan state forces in 2009 at local events yesterday evening. 

Gathering at their respective villages, a lamp was lit and a moment of silence held in memory of those who were killed. 

Sri Lankan soldiers posted in the Tamil homeland, handed out drinks to Tamils on their way to commemoration ceremonies for those massacred by the very same security forces yesterday.

The leader of Canada's New Democratic Party called for "accountability for those responsible for the genocide" in a message released to mark Mullivaikkal Remembrance Day on Friday.

Jagmeet Singh said "tens of thousands of innocent lives were tragically lost in unspeakable acts of violence and genocide".

Rohingya Muslims held an event on Friday to show solidarity with Tamils around the world, marking Tamil Genocide Remembrance Day and commemorating 9 years since the massacres at Mullivaikkal.

Sri Lanka's President Maithripala Sirisena tweeted a message expressing his "deep gratitude" to Sri Lankan soldiers on "Victory Day" yesterday.

The message was soon removed and reposted without the #VictoryDaySL hashtag.

Tamils in the UK held events on Friday to mark the 9th anniversary of the genocide of tens of thousands of Tamils by Sri Lankan state forces at the end of the armed conflict in 2009. 

 

Jaffna University students held a memorial yesterday evening at the suspended Mullivaikkal monument on campus.

Children from two Tamil preschools were taken around the Jaffna Security Force Headquarters in the occupied high security zone of Palali, yesterday on Tamil Genocide Remembrance Day, which Tamils across the North-East observed as a day of mourning.

People For Equality and Relief in Sri Lanka (PEARL) condemned Western governments for failing to act on Sri Lanka's "empty commitments and meaningless platitudes" and reiterated the need for an international justice mechanism, expressing solidarity with Tamils across the globe commemorate Tamil Genocide Day.
On Tuesday Palestinian Authority Foreign Minister Riyad al-Malki met with Fatou Bensouda, the International Criminal Court's chief prosecutor, at The Hague and called for a formal referral stating Israel had violated international law.

The Palestinian Authority stated it believes the ICC "is the competent authority to investigate the ongoing Israeli crimes associated with the illegal colonial settlement regime and to prosecute those criminals who commit such crimes".

Portuguese parliament approved a motion in support of Sahrawi independence and self-determination last week, reports the Sahara Press Service.

During a plenary session on 11 May Portuguese Members of parliament supported a motion calling on the government to promote actions to achieve the Sahrawi people's right to self-determination, as part of finding a lasting solution to the conflict that ended Morocco's...

Venezuela's president Nicolas Maduro ordered the expulsion of a top US diplomat in Venezuela over a new-round of sanction places on Venezuela due to it's highly criticised elections.

The United States alongside other nations did not recognise the results of Sunday's vote.

The EU in a statement released today criticised the conduct of the elections, adding that they would take further action in response.

Thai Prime Minister Prayuth Chan-Ocha stated on Tuesday that a general election will take place in "early 2019 and no sooner" despite protests in Bangkok demanding a vote be held in November.

Protests against military rule have taken place intermittently in Bangkok since the start of the year with many growing increasingly frustrated with the governments frequent delaying of the general election. Elections were first tentatively set for 2015 but now have reached the latest date of...

On Monday the IACHR criticised the Nicaraguan crack-down on protestors finding in a preliminary report that since April 18, at least 76 people have been killed, and 868 injured.

Protests initially began late last month in response to a new law that raised worker and employer social security contribution while cutting benefits. Yet, the latest wave of protests follows claims by the protestors that the government breached a two-day truce agreed during Church-Mediated peace talks. 

US Secretary of State Mike Pompeo, announced in a speech that the United States would impose heavy sanctions upon Iran if it failed to meet a 12 point list of demands. The speech follows the US withdrawal from the JCPOA, also known as the Iran nuclear deal.

Mr Pompeo stated that these demands were a "basic requirement". They are listed below:

A shutdown protest was declared in Kashmir, during a one-day visit to the region by Indian Prime Minister Narendra Modi, who was there to inaugurate a hydropower project.

Separatists within Kashmir called for the protest in response to Mr Modi's visit. Authorities closed schools, colleges and universities for the day in case of student protests. The main venue for his visit...

The results of a referendum in Burundi this week, which has been criticised by the US, potentially grants current President Pierre Nkurunziza the power to stay in office until 2034.

The country's election chief reported that 73 percent has voted in favour for extending the presidential term from five years, to seven. Pierre Claver Ndyaicariye, commission chairman has said that 96 percent of the 4.7 million registered to vote, has voted in this referendum.

The US Secretary of State Mike Pompeo pledged deeper security and economic support to Georgia, whilst calling on Russia to withdraw its forces from the regions of Abkhazia and South Ossetia in accordance to a 2008 ceasefire agreement.

"The United States unequivocally condemns Russia's occupation on Georgian soil. Russia's forcible invasion of Georgia is a clear violation of international peace and security," said the Secretary of State.

The US House of Representatives Committee on Foreign Affairs passed legislation last week to hold Myanmar's military accountable and target their economic interests with sanctions.

The Burma Unified through Rigorous Military Accountability Act of 2018 (BURMA Act) imposes targeted sanctions and travel restrictions on senior Myanmar military officials responsible for human rights abuses against the Rohingya people.

The Taliban launched an attack on the capital of the western Afghan province of Farah, briefly overrunning the city.

At least 25 members of the Afghan security forces were killed in the attack on Tuesday.

Afghan provincial official Fared Bakhtawer said "security checkpoints around the city have collapsed into the hands of the Taliban, causing high casualties among security forces."

Turkey's government ordered Israeli ambassador, Etan Naeh to leave the country in response to Israel's killing of Palestinian protestors in the Gaza strip yesterday.

The ambassador was told by Turkey's foreign minister that it would be "appropriate" if he returned to Israel "for a while" reports the...

On June 20th war crimes judges at the International Criminal Court (ICC) will discuss whether to launch investigation into the forced exodus of Rohingya Muslims from Myanmar. The decision was made after chief prosecutor, Fatou Bensouda, asked the court whether deportations could be investigated as a crime against humanity.

"The chamber convenes a status conference on 20 June 2018, to be held in closed session, only in the presence of the prosecutor," ruled Judge Peter...

Catalan parliament has completed negotiations within parties to allow for the selection of a pro-independence candidate to assume presidency of Catalan parliament and end the emergency direct rule imposed by Madrid.

The Catalan regional parliament is set to elect Quim Torra with a simple majority after the far left pro-independence Popular Unity Candidacy (cup) agreed to not block the vote.  

Mr Torra was handpicked by the exiled Catalan leader Carles Puigdemont, who faces jail...

In the bloodiest single day for Palestinians since 2014, 55 protestors were killed with over 2,700 injured by live gunfire reports Reuters.

The Palestinian Authority said that at least 1,100 of those injuries were lower limb gunshot wounds.

Myanmar's troops and government aligned paramilitaries have clashed with fighters from the Ta'ang National Liberation Army in the north of the country, leaving at least 15 people dead.

"Fighting took place since 5am this morning at three places: two military bases in Muse and one near a bridge on the way to Lashio town," TNLA spokesman Major Mai Aik Kyaw told AFP.

Sweden's Défense Minister Peter Hultqvist on Wednesday reiterated his government's commitment to training and supporting Kurdish Peshmerga forces, reports Kurdistan24.net.

"We have a training mission in Iraq – in Erbil. We have worked there together with the Peshmerga for a long time. We have a good experience of that and we thing its very important for Sweden to be a partner in the coalition against Da'esh. There is no change in our support to the mission. That's the bottom line for...

Fatou Bensouda, Chief Prosecutor of the International Criminal Court (ICC), stated that the Libyan government has yet to arrest and surrender Mustafa Busayf Al-Werfalli – a Major in the Libyan National Army who was charged with committing war crimes.

"ICC suspects who are indicted with charges of grave crimes under the Rome Statute cannot be sheltered or given refuge. They must be apprehended and face justice before the Court so that their guilt or innocence can be established,"...

Former Catalan leader Carles Puigdemont announced his decision to renounce leadership of Catalonia on Wednesday.

Speaking from hi self-exile in Berlin, Mr Puigdemont, pointed to Catalan lawmaker Quim Torra as a strong candidate to take on the role of regional president.

UNICEF Regional Director for the Middle East and North Africa stated that the escalating violence in Gaza is exacerbating child suffering.

According to UNICEF, five children were killed and hundreds injured during peaceful protests along the Israeli border. In addition, many children exhibit signs of distress and trauma. UN High Commissioner for Human Rights, Zeid Ra'ad Al Hussein, ordered the Israeli Security Forces to stop the use of "lethal force against unarmed demonstrators."

The US Statement Department Spokesperson Heather Nauert strongly criticised Turkish forces for preventing Kurdish displaced Kurdish residents in Syria's Afrin region from returning to their homes.

Answering questions on Thursday the US Sate Department Spokesperson Heather Nauert, said,

"We've been watching the situation very carefully in Afrin. 140,000 people have been displaced from Afrin and as far as we can tell, they are not being allowed back into their homes."

Ms...

The British Shadow Foreign Secretary Emily Thornberry attended the Palestninian National Council summit in Rammallah this week, to reiterate the Labour party's support for the state of Palestine.

In a statement posted on facebook, Ms Thornberry said,

The Basque separatist militant group ETA formally announced its disbanding in Spanish papers on Wednesday reports Politico.

In a letter published by the El Diario newspaper, ETA said "ETA has...

The Palestinian Authority and Norway signed an agreement worth $2.71 million to support the Palestinian statistical program of the Palestininan Central Bureau of Statistics (PCBS) for the period of 2018-2020, reports the International Middle East Media Center.

The agreement will see Norway provide financial and technical assistance to build the capacity of the Palestinian institution responsible for collating and producing statistics about the Palestinian state.

The Dominican Republic in a change in foreign policy cut diplomatic ties with Taiwan to establish exclusive ties with China, reports the BBC.

In a statement made after the decision, the Dominican Republic said it "recognises that there is only one China in the world, and Taiwan is an inalienable part of the Chinese territory."

The administration added that the decision would be "extraordinarily...

Mohammed Jabbateh, a former leader of a rebel faction in Liberia, has been sentenced to 30 years in a US prison after he was found to have lied in his asylum application over his role in committing potential war crimes during the Liberian civil war.

Mr Jabbateh, nicknamed 'Jungle Jabbah', has lived in Pennsylvania for the last 20 years. He was found guilty on two counts of fraud in immigration documents and two counts of perjury and sentenced this week.

Thousands of civilians have been forced to flee Myanmar's northern state of Kachin as the army stepped up air strikes and artillery fire against separatist fighters of the Kachin Independence Army (KIA) this week amid widespread reports of rights violations by government forces. 

Human rights groups have criticised the military's intensified attacks on the Kachin fighters, arguing that the military campaign and associated rights violations are being launched at a time when the world's...

The former Bosnian army commander, Atif Dudakovic was detained by police on Friday over allegations of war crimes and crimes against humanity committed against Serb civilians during the conflict between 1992 and 1995. 

Twelve other members of the Bosnian army were also detained along side Mr Dudakovic, who was a popular army commander in the Bihac region, viewed by many Bosniaks as a war hero. 

The detentions follow over 8000 pages of evidence submitted by a team investigating...

The President of China welcomed the Prime Minister of India to Wuhan, the capital of China's Hubei Province, for a two-day informal meeting, with both leaders expressing a desire to open a new chapter in bilateral ties between the countries.

According to Xinhua, Chinese President Xi Jinping said that the two leaders had established a good working relationship over the last three years and...

The leaders of North Korea and South Korea signed a historic agreement that sought to work for the "complete denuclearisation of the Korean peninsula and bring an official end to the 6 decade old conflict.

"The two leaders declare before our people of 80 million and the entire world there will be no more war on the Korean peninsula and a new age of peace has begun," said the two sides.