India's prime minister Narendra Modi called for increased economic and developmental connectivity with Sri Lanka whilst on a two day visit to the island. 
"I believe we are at a moment of great opportunity in our ties with Sri Lanka. An opportunity to achieve a quantum jump in our partnership across different fields. And, for us, the most relevant benchmark for the success of our friendship is your progress and success," said Mr Modi speaking as the chief guest for Vesak Day celebrations in Colombo. 
Extract from his speech follows: 
"We are committed to the economic prosperity of our Sri Lankan brothers and sisters. We will continue to invest in driving positive change and economic growth to deepen our development cooperation. Our strength lies in sharing our knowledge, capacity and prosperity. In trade and investment, we are already significant partners. We believe that free flow of trade, investments, technology, and ideas across our borders will be to our mutual benefit. India's rapid growthcan bring dividends for the entire region, especially in Sri Lanka. In infrastructure and connectivity,transport and energy,we are poised to scale up our cooperation. Our development partnership stretches across nearly every sector of human activity such as agriculture, education, health, resettlement, transport, power, culture, water, shelter, sports, and human resources."
Today, India's development cooperation with Sri Lanka amounts to US Dollars 2.6 billion. And, its only aim is to support Sri Lanka in realizing a peaceful, prosperous and secure future for its people. Because, the economic and social well being of the people of Sri Lankais linked with that of 1.25 billion Indians. Because, whether it is on land or in the waters of the Indian Ocean, the security of our societies is indivisible. My conversations with President Sirisena and Prime Minister Wickremesinghe have only reinforced our will to join hands in achieving our common goals. As you make important choices for the harmony and progress of your society, you will find in India a friend and partner that will support your nation-building endeavours."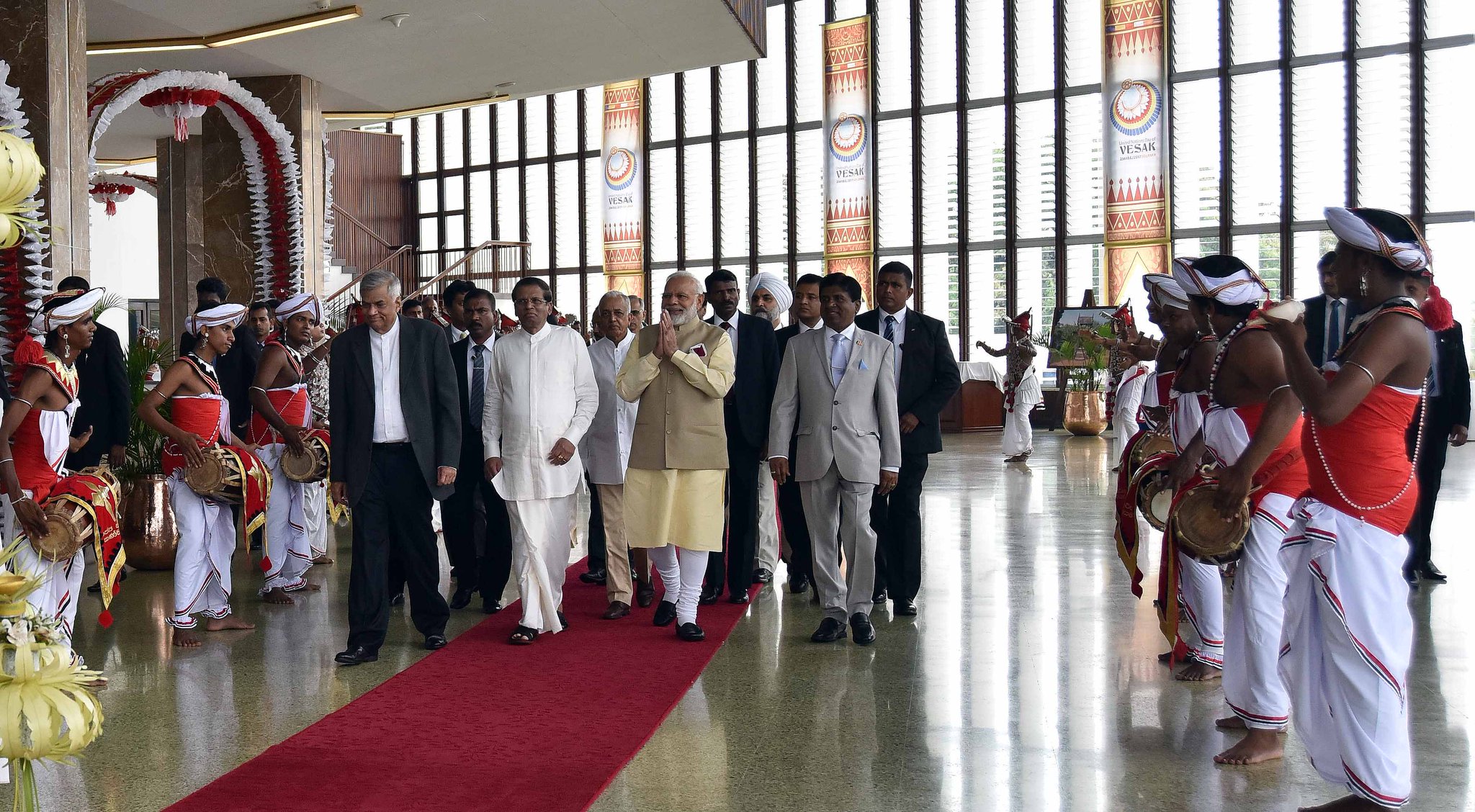 Photograph @PMOIndia
"It is wonderful to meet this great human being @narendramodi in Colombo again. Thank you for gracing #InternationalVesakDay," Mr Sirisena, Sri Lanka's president tweeted. 
A meeting took place with the former president, Mahinda Rajapaksa who had requested to meet the Indian premier. 
"Former Pres Mahinda Rajapaksa requested for call on with PM Modi and PM agreed,was a cordial meet: Taranjit Sandhu, Indian High Commissioner," ANI news agency tweeted on Thursday. 
Mr Modi also address Indian origin Tamils in the Upcountry, pledging to build 10,000 houses for them. He later retweeted an article published in the The Nation titled, 'Brotherhood Renewed'.